The first rule of thumb to keep in mind when mowing your Sir Walter Soft Leaf Buffalo Lawn, is that mowing height matters!
We know there's no one mowing height that will work on all lawn types, we do know that close mowing reduces root growth though, which in turn reduces the amount of water the turf can absorb.
Add to this that the shallow roots are susceptible to hot weather and water evaporation, needing more water to keep the grass alive, and you've got a recipe for disaster in our harsh Australian climate.
At Sir Walter, we've trialed many methods and we recommend that you keep your mower blades raised – a height of 40-50mm should always be maintained as a minimum and even higher in shaded areas or in the cooler months.
Also, during the hot, dry days of summer, it's a good policy to let your grass grow just a little bit longer, so raise the mower height a little more than usual and your lawn will be better able to survive those summer scorchers – and of course it will look and feel great too.
It's also vital to remember that you cannot mow your newly lain Sir Walter Premium Lawn Turf until it has taken root. Test this by trying to lift the grass – if it lifts even a little, hold back on your first mowing.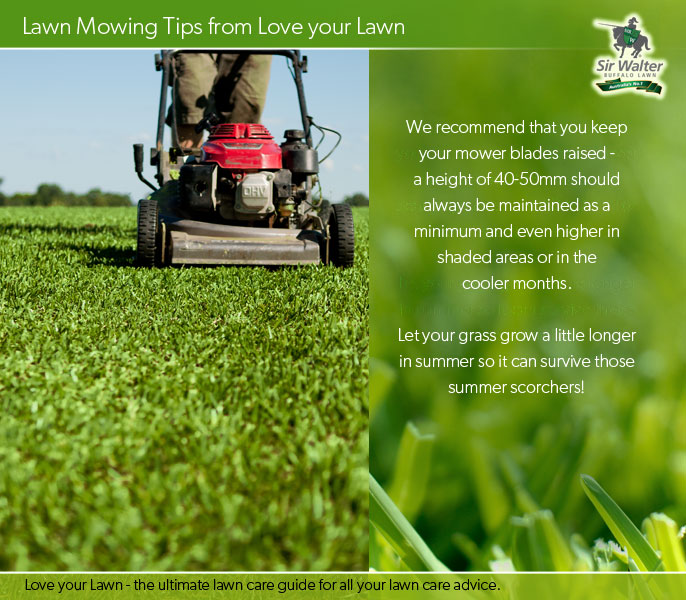 Find out more
Find out more about how to keep your lawn looking healthy with a good mowing routine in this Sir Walter Video all about Mowing