If you have a spot where grass just won't grow is synthetic turf the answer?
Although natural grass is always our recommendation for any lawn, there are places that frankly are too much in the dark or do not have access to water to successfully grow the real thing.
If you have a spot that is 100% shade, a rooftop or other area where grass simply is too difficult to grow Lady Jane or other synthetic turf could be a solution.
Sir Walter are proud to announce an Australian first… the development of a Premium Synthetic Grass that can be used alongside Australia's Premium natural turf, Sir Walter. 'Lady Jane' will be perfect for all installations where natural turf cannot be grown, due to factors such as no sunlight, no water or difficult traffic areas. 'Lady Jane' has been designed to carry all the hallmarks of Sir Walter's natural turf variety; a premium construction, a dense blade structure and thick thatch layer, plus a generous 50mm pile height, developed to simulate the slightly uneven texture of Sir Walter natural lawn turf.
There are some excellent situations where synthetic grass is a good choice, especially if you can't get a natural grass to grow: roof tops, courtyards, balconies and terraces, heavily shaded areas where natural grass won't grow, kids play areas, day care centres, sports fields, tennis courts, and indoor sports pitches to name a few.
One of the big differences between natural and synthetic is temperature. Synthetic grasses get a lot hotter than natural lawns and if laid around your house will have a big impact on the overall temperature, leading to increased air conditioning use and power costs…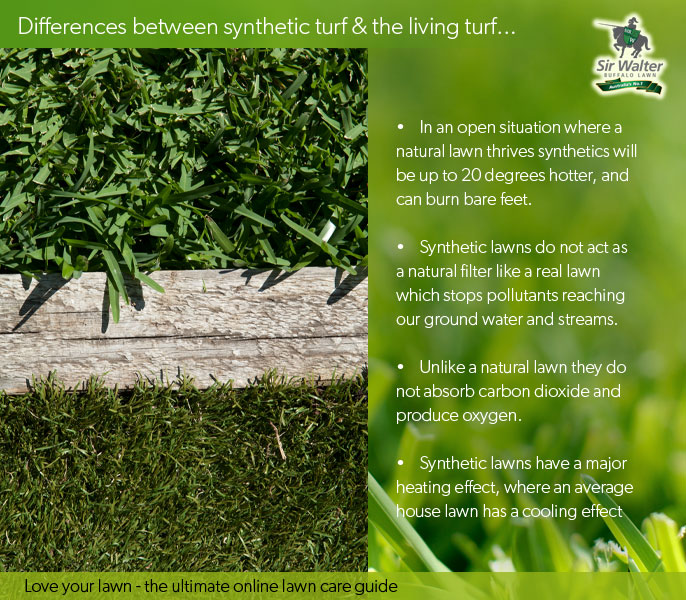 Synthetic grass is made from plastic and cleverly woven into a rubber underlay with all sorts of different textures, piles(length) and subtle blends of colour.  Unlike the old astro turf, Lady Jane is a quality product so if you really cannot use the real thing this is a good alternative.
More information