The days are getting shorter and the temperature is getting a little cooler, but your lawn is still growing. Autumn is one of the most important times on the lawn care calender.
Lots of things can happen this time of year depending on your location.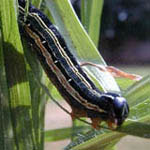 These little fellas are usually most active where good rainfall has been experienced, Sir Walter is pretty tough when it comes to grub attack but sometimes when the infestation gets really heavy in your neighbourhood treatment is necessary.
For more information on Army worms, lawn grubs and how to control lawn pests in general read the Controlling lawn grubs article here.
More information about Lawn Grubs and Army Worms:


Autumn is the best time of year to get your lawn into shape for the winter ahead, as a goal if you have your lawn in peak condition at Easter it will generally perform better in Winter, so now is a great time to get out there and get your lawn into top shape buy fertilizing and watering.
More information about your Winter Lawn Care:


Now that the crazy growing season is over its time to make sure we are mowing correctly, it's a good time now to check the mower for sharp blades and height, it a good idea to start leaving a bit of length on your lawn now in preparation for the cooler months ahead.
More information about your Autumn Lawn Care: